Angelfish - Pterophyllum scalare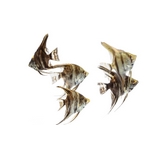 COVID-19 Status - We are pleased to say that the couriers are now back to a normal level with 3 delivery days per week. We are still dealing with a large number of orders and so delivery is likely to be approximately a week after placing the order. Very sorry for the delay but we are working as fast as we can!
The Angelfish, in all of its colour variants, is one of the most popular aquarium fish. It is ideally suited to larger, well planted aquariums. They are voracious eaters and will interact with their keeper to encourage feeding. Although they are generally fairly peaceful, they can become territorial, especially during breeding time.