Mollies - Poecilia sphenops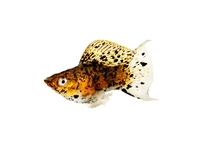 Mollies are live bearers and can be fairly easy to breed. For many aquarists the problem is often not getting them to breed but stopping them from breeding! They are very attractive and come in many different morphs of colour and shape.
Mollies like abit of salt in their water to thrive but are easy to keep and great fun for the beginner and experience aquarist alike.