Live Aquarium Plants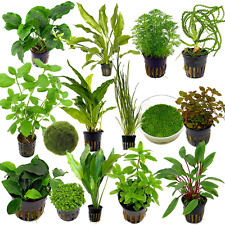 Aquatic plants are not just a natural decoration they also have many chemical and physical benefits too .
Plants are very important when it comes to a thriving, healthy aquarium and we recommended them for both novice and expert aquarium hobbyists.
Our plants come potted and ready to be pushed into your gravel or sand where they will thrive.
We only list the variety packs of plants but if you have any specific requirements, please let us know. We can get hold of 100s of varieties for you at just 1 weeks notice.