Danios Rasboras & Minnows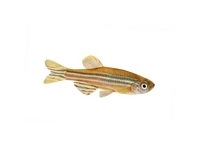 Danios and Rasbora are, generally, excellent community fish. They are hardy and prefer to live in a shoal, which can make for an stunning display.
They prefer water to be around Neutral but can thrive is a wide temperatue range. The White Cloud mountain minnow can happily live in an unheated aquarium that remains at room temperature.
Danios are widely recommended as 'first fish' for a new aquarium as some are extremely hardy.