Turtles and Sliders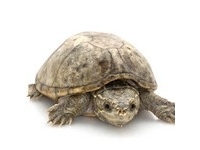 The Tropco stock a range of freshwater turtles throughout the year.
All turtles are reptiles which mean that they all require air to breath. There a no, fully, aquatic turtles and so all turtles need to be kept with a significant percentage of dry land on which to bath. They also require UV light to maintain a healthy shell and bones.
Turtles are not ideal to co-exist with fish as they are nearly all predatory in some way. If you do keep fish in your turtle system then you will find some get eaten.