Danios, Rasbora & Minnows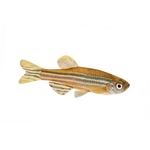 COVID-19 Status - We are pleased to say that the couriers are now back to a normal level with 3 delivery days per week. We are still dealing with a large number of orders and so delivery is likely to be approximately a week after placing the order. Very sorry for the delay but we are working as fast as we can!
Danios and Rasbora are, generally, excellent community fish. They are hardy and prefer to live in a shoal, which can make for an stunning display.
They prefer water to be around Neutral but can thrive is a wide temperatue range. The White Cloud mountain minnow can happily live in an unheated aquarium that remains at room temperature.
Danios are widely recommended as 'first fish' for a new aquarium as some are extremely hardy.