Discus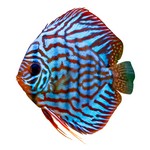 COVID-19 Status - We are pleased to say that the couriers are now back to a normal level with 3 delivery days per week. We are still dealing with a large number of orders and so delivery is likely to be approximately a week after placing the order. Very sorry for the delay but we are working as fast as we can!
Discus are, arguably, the most beautiful of all tropical fish, but they are also amongst the hardest to keep. We are pleased to be offering some of the hardiest Discus available anywhere. Many people keep them happily without any need for RO water.
There are many color varieties of Discus and we only have a few listed here. If you are looking for something different, special or rare then please ask as we can probably help you.