Guppies - Poecilia reticulata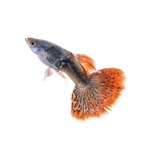 COVID-19 Status - We are pleased to say that the couriers are now back to a normal level with 3 delivery days per week. We are still dealing with a large number of orders and so delivery is likely to be approximately a week after placing the order. Very sorry for the delay but we are working as fast as we can!
Possibly the most popular or well known of all tropical fish, the guppy can be a great starter for the beginner.
Their ability to thrive at lower temperatures than other tropical fish can make them an ideal condidate for the smaller, unheated aquarium in the home.