Mollies - Poecilia sphenops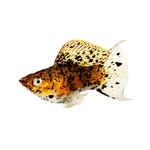 COVID-19 Status - We are pleased to say that the couriers are now back to a normal level with 3 delivery days per week. We are still dealing with a large number of orders and so delivery is likely to be approximately a week after placing the order. Very sorry for the delay but we are working as fast as we can!
Mollies are live bearers and can be fairly easy to breed. For many aquarists the problem is often not getting them to breed but stopping them from breeding! They are very attractive and come in many different morphs of colour and shape.
Mollies like abit of salt in their water to thrive but are easy to keep and great fun for the beginner and experience aquarist alike.