Platies - Xiphophorus maculatus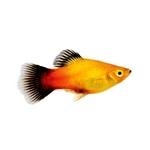 COVID-19 Status - We are pleased to say that the couriers are now almost back to a normal level. We are able to deliver 2 days per week with the next delivery days being 10th & 11th of June. Thank you for your patience during, what has been, a very tough time for all.
Platies are a great tropical fish for the beginner. They are hardy, colourful and easy to breed, giving birth to live young. To prevent males fighting, it is advised to have at least 2 females to every male. This will also prevent harrassment to the females.