Swordtails - Xiphophorus helleri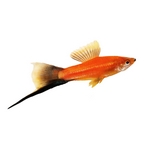 COVID-19 Status - We are pleased to say that the couriers are now almost back to a normal level. We are able to deliver 2 days per week with the next delivery days being 10th & 11th of June. Thank you for your patience during, what has been, a very tough time for all.
Swordtails are lively, colourful livebearers and can make an ideal addition to a passive community tank setup. They are a tough little fish that can hold their own, even against some of the larger community occuants. The males can be a little aggressive to each other on occassion.
They are easy to breed and with selective breeding it is easy for even the novice aquarist to delveop their own colour strain.
An excellent fish for the beginner and more experienced alike.