L Number Plecos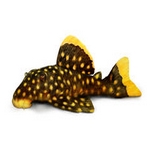 COVID-19 Status - We are pleased to say that the couriers are now back to a normal level with 3 delivery days per week. We are now in a position to deliver orders without any significant delay. Thank you!
Plecos are a great tropical fish for both the beginner and experienced fish keeper
They are hardy, can be colourful and most find them easy to breed.