Aquarium Essentials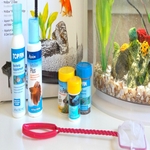 COVID-19 Status - We are currently running as normal with deliveries on a Wednesday, Thursday and Friday. Thank you.
In an effort to bring our customers everything that they want for their aquarium, we are currently building up a wide range of great ornaments and decorations!
If you require an item that is not available on our website, please let us know and we will do our best to get it to your door within a couple of days.
We are here to provide everything that you could ask for.