Fancy Goldfish - Carassius auratus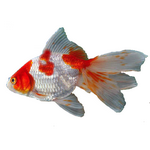 COVID-19 Status - We are pleased to say that the couriers are now back to a normal level with 3 delivery days per week. We are now in a position to deliver orders without any significant delay. Thank you!
Fancy Goldfish are available in a great number of different shapes and forms. They are a real favourite for the unheated aquarium and can make a beautiful display. Providing the aquarium is filtered correctly, as they are healthy eaters and quite messy, they are easy to keep and great fun to watch.
Temp: 14 - 24°C
pH - 7.0-8.0
Max Size: 10" (25cm)