Angelfish - Pterophyllum scalare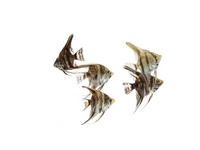 COVID-19 Status - We are currently running as normal with deliveries on a Wednesday, Thursday and Friday. Thank you.
The Angelfish, in all of its colour variants, is one of the most popular aquarium fish. It is ideally suited to larger, well planted aquariums. They are voracious eaters and will interact with their keeper to encourage feeding. Although they are generally fairly peaceful, they can become territorial, especially during breeding time.