Barbs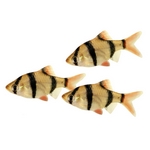 COVID-19 Status - Unfortunately the couriers that had promised to deliver our parcels through December are not meeting the standards that we can accept. Fish welfare will always come first and so we have closed the checkout on the website until we are happy that deliveries can resume safely. This will probably be Christmas. All pending orders will be delivered as promised.
We are open for collections Monday to Saturday until Christmas and will be offering 10% off for all visiting customers. Everything that is listed on the website is here in stock.
Local deliveries may be possible. Please call us and ask.
Barbs belong to the subfamily of the Cyprinids, the Barbinae. They are a hardy and colourful schooling species that do best if kept in groups of at least five or more, most prefer soft acidic to neutral water that is well aerated and a bit on the cooler side.
Like many small shoaling fish, the barbs have a hierarchy system where each fish has a level of dominance. In order to continually reinforce the group structure, squabbles and chasing are a regular occurrence.
This behaviour rarely causes any serious harm but is where barbs have gained their reputation for being troublesome fin-nippers, the most notorious being the Tiger Barb who are prone to fin-nip other fish even when kept in large groups.