Dwarf Cichlids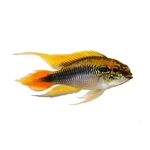 COVID-19 Status - Unfortunately the couriers that had promised to deliver our parcels through December are not meeting the standards that we can accept. Fish welfare will always come first and so we have closed the checkout on the website until we are happy that deliveries can resume safely. This will probably be Christmas. All pending orders will be delivered as promised.
We are open for collections Monday to Saturday until Christmas and will be offering 10% off for all visiting customers. Everything that is listed on the website is here in stock.
Local deliveries may be possible. Please call us and ask.
Dwarf Cichlids are pretty, friendly fish that can dispaly wonderful colours and personailities. The size and peaceful nature mean that they can be enjoyed by hobbyists with smaller tanks as well as the more serious aquarist.
The group of Dwarf Cichlids actually originate from both Central and south America as well as West Africa. They are generally peaceful fish but, as with all cichlids, they can become territorial, especially during breeding.