Fancy Goldfish - Carassius auratus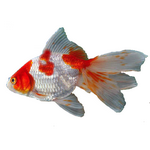 COVID-19 Status - Unfortunately the couriers that had promised to deliver our parcels through December are not meeting the standards that we can accept. Fish welfare will always come first and so we have closed the checkout on the website until we are happy that deliveries can resume safely. This will probably be Christmas. All pending orders will be delivered as promised.
We are open for collections Monday to Saturday until Christmas and will be offering 10% off for all visiting customers. Everything that is listed on the website is here in stock.
Local deliveries may be possible. Please call us and ask.
Fancy Goldfish are available in a great number of different shapes and forms. They are a real favourite for the unheated aquarium and can make a beautiful display. Providing the aquarium is filtered correctly, as they are healthy eaters and quite messy, they are easy to keep and great fun to watch.
Temp: 14 - 24°C
pH - 7.0-8.0
Max Size: 10" (25cm)