Swordtails - Xiphophorus helleri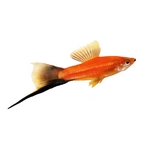 COVID-19 Status - Unfortunately the couriers that had promised to deliver our parcels through December are not meeting the standards that we can accept. Fish welfare will always come first and so we have closed the checkout on the website until we are happy that deliveries can resume safely. This will probably be Christmas. All pending orders will be delivered as promised.
We are open for collections Monday to Saturday until Christmas and will be offering 10% off for all visiting customers. Everything that is listed on the website is here in stock.
Local deliveries may be possible. Please call us and ask.
Swordtails are lively, colourful livebearers and can make an ideal addition to a passive community tank setup. They are a tough little fish that can hold their own, even against some of the larger community occuants. The males can be a little aggressive to each other on occassion.
They are easy to breed and with selective breeding it is easy for even the novice aquarist to delveop their own colour strain.
An excellent fish for the beginner and more experienced alike.